Breast Augmentation in Paris
Dr. Massimo Gianfermi is a specialist in the field of cosmetic and reconstructive surgery/breast augmentation.
COSMETIC AND RECONSTRUCTIVE BREAST SURGERY
Breast augmentation is the most democratized and popular plastic surgery procedure, whether in France or around the world.
Thanks to the many advances made in this field, it is possible to obtain a breast augmentation adapted to one's desires and morphology, whether in terms of volume, shape or scars. Visually and to the touch, the result will be harmonious and natural.
Why a breast augmentation?
Breast hypoplasia and hypotrophy are defects in breast volume development.
This can be due to insufficient development of the mammary gland or secondary to loss of volume after pregnancy, weight loss or hormonal fluctuation.
Many women experience this hypotrophy as an attack on their femininity. In some cases, it can be associated with a loss of self-confidence or even become a complex.
Dr. Gianfermi therefore offers her patients different breast augmentation procedures to increase this insufficient breast volume while respecting the patient's anatomy and morphology.
Partial coverage by the CPAM (primary health insurance fund) is possible for cups smaller than A with a masculine-looking thorax.
The main advantages of breast augmentation by prosthesis are : 
Breast Augmentation
The different possibilities
Silicone
Silicone implants consist of a silicone shell filled with a cohesive silicone gel.
These implants simulate the look and feel of natural breast tissue and provide the most natural results.
Dr. Gianfermi prefers silicone implants for breast augmentation surgery for a natural feel and optimal longevity.
He prefers French-branded implants manufactured in France, for which there is several decades of experience. The safety of his patients is a priority in his practice.
Under breast
This technique is preferred by Dr. Gianfermi, Dr. Gianfermi creates a very small incision along the lower breast fold. His technique follows the natural curvature of the lower breast, which helps to camouflage any scarring that may develop.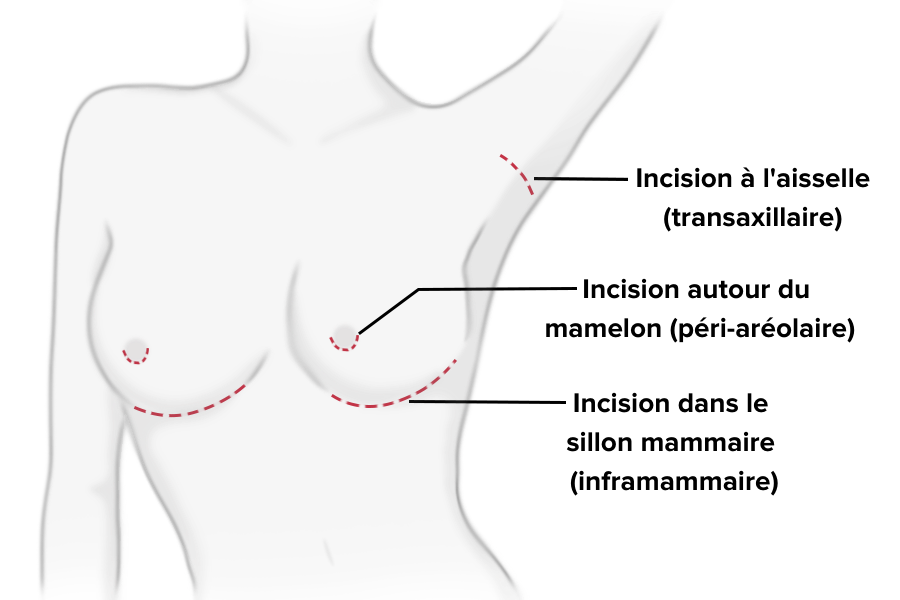 Subglandular
The implants are placed under the breast tissue but above the pectoralis major muscle. Dr. Gianfermi will occasionally use this technique if there is enough natural breast tissue to cover the implants or if the implants are of moderate size.
It is also the prosthetic placement of choice for patients who are very athletic or want the fastest postoperative recovery.
Dr. Gianfermi does not favor this technique because the results evolve less favorably with aging and thinning of the breast tissue.
The prosthesis is more visible on the upper part of the breast because the muscle does not cover the implant.
Breast Augmentation
and lifting (mastopexy)
For patients with ptosis (drooping breast) or an emptied breast, under after breastfeeding with poor areola position then it is necessary to combine a breast lift with breast augmentation with implants.
A breast lift combined with a breast augmentation improves the shape of your breasts, treats breast ptosis by removing excess skin for a harmonious breast. This technique also treats breast deformities such as double groove or breast malposition.
Dr. Gianfermi will evaluate your degree of breast ptosis to determine whether or not you need a breast lift combined with breast augmentation. Dr. Gianfermi's goal is always to achieve natural-looking breasts that integrate with your body type. It is important to strike a balance between the skin thatu are removed and the size of the implant. Dr. Gianfermi will remove enough skin to correct ptosis, but leave tissue to provide adequate support for the breast implant. This requires expert skill and extreme attention to detail.
Frequently asked questions